Berlin Decadence

A few weeks ago Inésita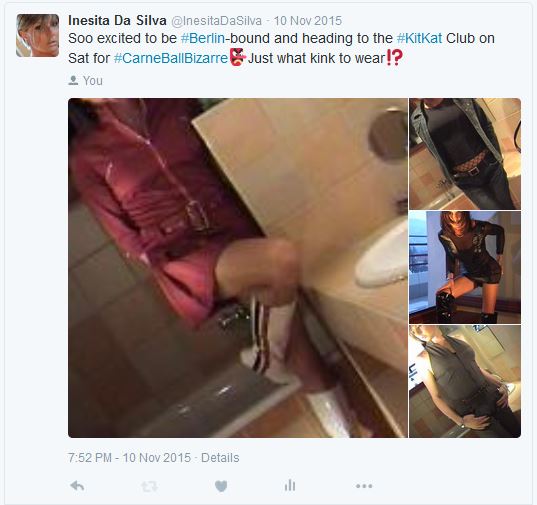 and partner partied all night at Berlin's infamous KitKatClub and boy, what an experience to remember! We went on a tip from a local and certainly played our part in the CarneBall Bizarre. From the moment we stepped inside we were in seventh heaven. Our interest: the female clientele, and they sure didn't disappoint. Girls of all ages wore BDSM gear, pvc and leather, pussycat uniforms etc. and it was a real turn-on to see several items from H&M's new lingerie range already 'liked' by the missus on display. Because that's really all most females wore; their underwear (if that). Cute butts and pussies galore were on show and it was a job to keep our hands to ourselves as their owners worked out to electrotechno, ourselves included.
We flirted with the club's denizens from its dance floor to its chill-out area, cages and bars, before finding our own little playroom to literally spread out. There, alongside other couples making love, we released the sexual tension through our repertoire of favourite positions; 69; queen style; balls-deep blowjob before the missus rode my cock and then my face, smothering me with oodles of honey sweet pussy juice. Although the club was choc-full of homosexuals (regrettably too few of the female kind) what took us by surprise was the way the male clientele flocked to masturbate over our own show. Before we knew it we had an audience of five, maybe six, and the challenge quickly became avoiding their cum-shots or preventing them from joining in! Damn! If only they'd been girls
Still, we felt heavenly after our mind-blowing orgasms and the crowd dissipated, heading back to our hotel as the sun came up, positively glowing at our first public performance! We realized then that the KitKatClub was only a metaphorical step away from a swingers' club, which is now on our to-do list. Fortunately Budapest (home) has plenty of those and this time surely we'll find a female to kiss the missus lips, both pairs hopefully, while accommodating Inesita's cock
Playwright, Gerhart Hauptmann, was so right when he said: "Berlin is splendid…Berlin is life." Even if he wrote that over a hundred years ago. So little has changed, we thought. Just like its lovers.
(Jan. 2016)